Back to Events
Event Details
March Luncheon- Mobile Vendor Traffic Cop
Description of offering:

Mobile vendor traffic has increased substantially over the past 5 years as building owners and managers have provided additional amenities to tenants. This can sometimes require a full-time person to coordinate with registration, certification of vendors, keeping up to date insurance certificates, location of services, clean up and tenant satisfaction. Join us in learning the latest best practices in how others manage this tenant service as well as how this can be a leasing differentiator.

Here's what you'll learn:

•How can additional service offerings bring value to your property and be a leasing differentiator?
•Lessons learned from developers/owners of large office parks and communities on mobile vendors
•What kind of data can be collected through your mobile traffic
•Differences in how you manage mobile services vs food trucks
•What kinds of services should you consider for your property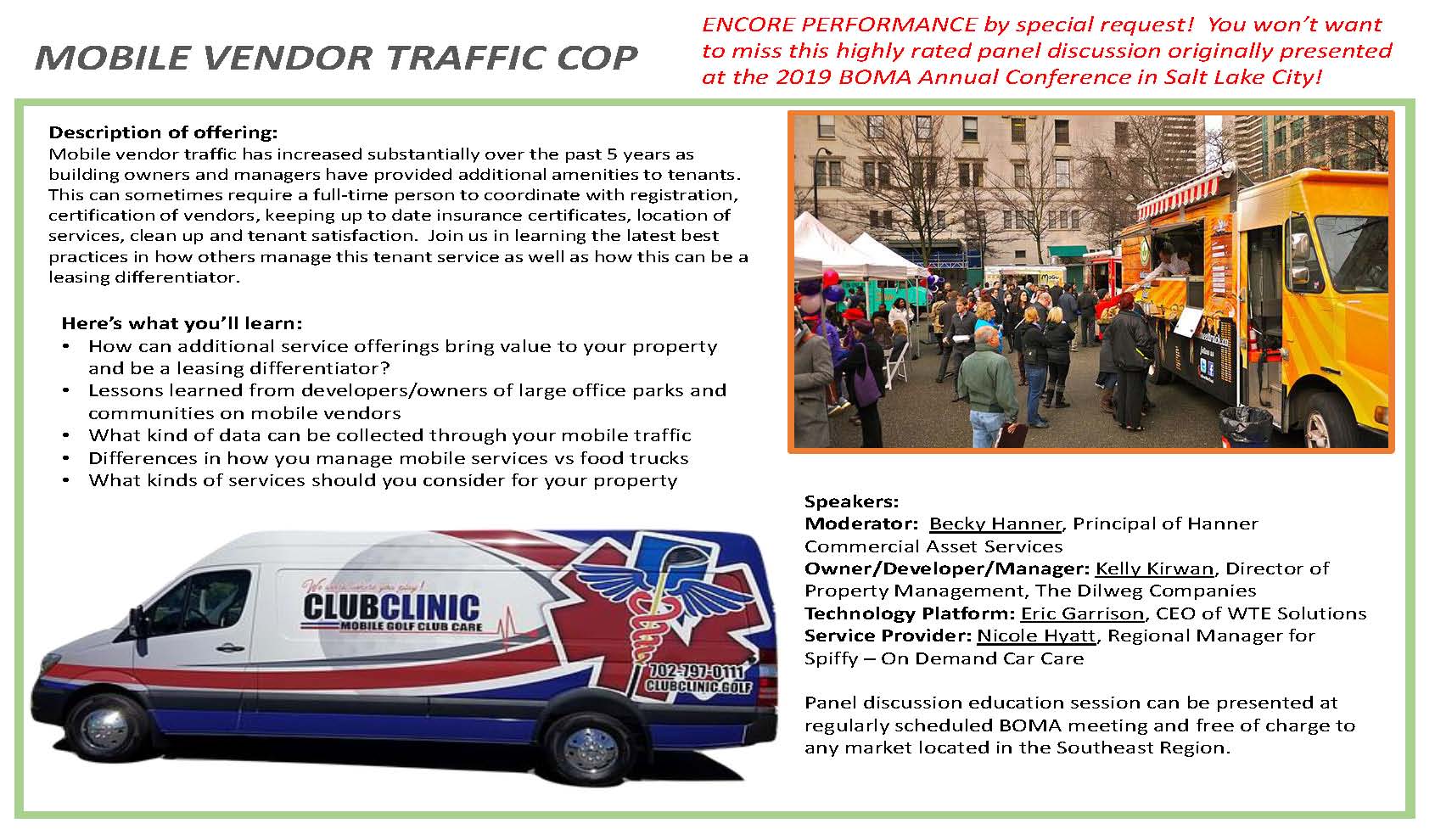 Please note your picture may be captured to use in Social Media or our Marketing Material
-All reservations are due Friday before the luncheon to guarantee a seat.
-All cancellations must be received Friday before the luncheon in order for a full refund to be given
For More Information:
PO Box 568156
Orlando, Florida 32856
United States
(407) 380-3320
Dessert Sponsor

Penthouse Sponsor Spotlight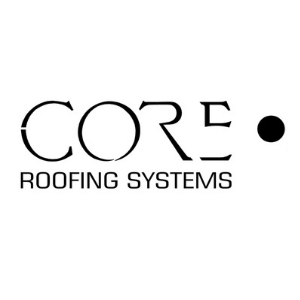 Meet our Speakers: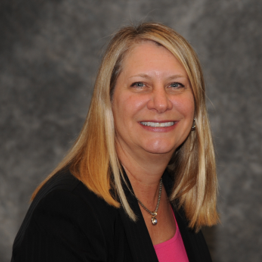 Rebecca (Becky) Hanner
BOMA Fellow, CPM, RPA, LEED Green Associate
Principal Hanner Commercial Asset Services
Principal Crestmark Commercial
Partner MOBLZ
becky@hannercas.com
A 30-year commercial real estate veteran, Becky started her career with a real estate developer, introducing her to many facets of the business. She has been an Asset Manager for a national REIT and most recently provided leadership for a 3rd party provider, leading the largest Commercial Real Estate property management team in the RTP area with a property portfolio approaching 14 million square feet/ recognized as the #1 property management team for 5 years (per Triangle Business Journal) and Best Places to Work for 3 years. She now runs her own Property Management and Asset Management businesses. Becky is a recognized thought leader known for growing businesses while positively cultivating internal and external relationships. She drives strategy and new business development through her vast network of contacts and the ability to keep a pulse on industry trends. A former officer of BOMA International, Becky has helped develop the suite of floor measurement standards and is now focused on the evolving trend of tenant amenities. She has an excellent reputation throughout the industry, locally and nationally.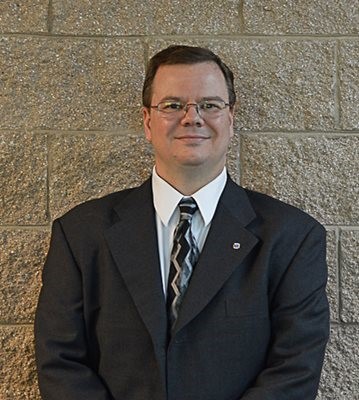 Eric Garrison
Co-Founder MOBLZ.com
CEO – WTE Solutions
eric@moblz.com
Eric Garrison is the CEO of WTE Solutions Inc., which hosts over 1000 business websites in the eCommerce, business services, medical and financial markets. In addition to developing custom client-needs driven software applications, Garrison has created several proprietary technologies over the company's 15-year history, including technologies used by clients such as Comcast, Toll Brothers, and Carfax. With a large focus in data security and the movement of funds, he helps clients grow and smartly manage their businesses through smart technology and scalable systems.
MOBLZ is the latest system built by WTE Solutions technical team. The founders of MOBLZ have worked with top property managers in the Raleigh Durham Market to create a platform to enhance the tenant experience through mobile amenities at top office parks around the country. Building owners are looking to improve tenant experience through the improved building and office park amenities. Food trucks and mobile vendors add a sense of culture and community for your tenants. This often creates more work for property managers. This creates more administrative work and risk for property managers.
Garrison has also founded and sold a number of successful B2C eCommerce companies. But before building his own technology and consulting business, he served as the Director of Online Services at Marvel Comics, where he started the company's online division when the Internet was still in its infancy. Garrison also was a technical director for numerous multimedia projects and CD-ROM based games for Marvel's entertainment division. After leaving Marvel to start his own technology firm, Garrison worked closely with Alan Iverson and Tim Duncan during their rookie years to launch their first websites. Such clients introduced Garrison's forward-thinking approach to numerous other celebrity and entertainment-based clients. Since then, Garrison's companies have worked with both large and small businesses, celebrities, sports stars, movie studios, and record labels to help build a successful online presence.

Kelly Kirwan, LEED AP, RPA
Director – Property Management
The Dilweg Companies
Kelly joined the firm in 2015 and is responsible for leading the property management department. She brings more than 13 years of property management experience to the position. Kelly obtained her BA from Goucher College and an MBA from the University of Phoenix. She is a LEED AP and RPA. Kelly also serves on the BOMA Raleigh-Durham Board of Directors.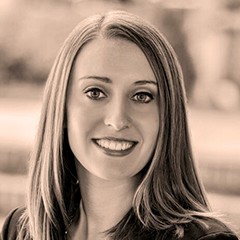 Nicole Haight
Account Manager
Get Spiffy, Inc
Nicole is responsible for national sales for Spiffy mobile car wash, detailing and oil change, for individuals and fleets. They currently have locations in LA, Dallas, Atlanta, Charlotte, and Raleigh-Durham, with more locations planned in 2020.