How to Welcome People Back to the Office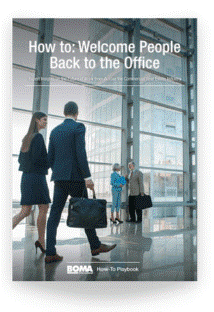 Over the course of just a few days, office workers packed up their things and prepared to work remotely as stay-at-home mandates swept the country last March. More than one year later, the commercial real estate industry now faces the much more complex task of bringing them back. Thanks to the valuable insights provided by the BOMA network's industry-leading service providers and vendors, you don't have to navigate this challenge on your own.
We've teamed up with a wide range of companies to produce the all-new How to: Welcome People Back to the Office playbook—a digital guide jam-packed with the expert perspectives you need on everything from the value of the modern workplace to indoor air quality and enhanced cleaning protocols. How to: Welcome People Back to the Office is the first in a series of How-To Playbooks created exclusively for the BOMA network, by the BOMA network. Stay tuned for more!